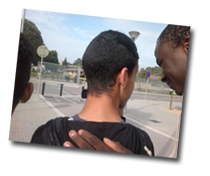 The group of youth will be located in "La Estació Jove"
facility.


IES, Institute VALLVERA
The labs will take place every
Tuesday and Thursday
Tuesdays: from 10:50 to 11:50.
Thursdays: from 08:20 to 10:20
10 youngsters of the Vallvera Institute
will be involved in the lab work.

Fundació Ser,gi. LINK program
SER.GI Foundation works to improve the quality
of life of minority groups or who encounter difficulties
in their personal, family or social lives.
The LINK program aims to improve the success of the school
and fight against the drop out of young school
learners.
The labs will take place every
Monday and Wednesday from 11:00 to 13:00